Oysy has been my downtown/near north go-to sushi place for years. They're priced like a neighborhood sushi bar, but the atmosphere is polished enough to lure in tourists and people out for business lunches. Oysy is in the center of public transit options and shopping, so it's not a hard sell when friends are looking to meet for raw fish before moving on to other adventures.
I like this spot for groups because I can usually talk people into getting the sashimi platter ($24), which not only includes favorites like tuna, yellowtail, eel, California roll and some spicy tuna, but usually includes the shrimp served two ways — raw along with the fried carcass. It's always fun to talk someone into trying it. The shrimp head is edible and reminds me of shrimp-y Pringles, just remember to eat it from the back so the prongs don't poke you in the throat. Important safety tip.
Some of the specialty maki here come in weird combinations, so I tend to stick to the traditional nigiri and maki side of the menu. However, when dining out with friends I do unbend to try things like the Summer Roll with masago, tuna, yellowtail, cilantro, avocado, green pepper, chili oil, spicy sauce, lime juice. The green pepper and cilantro fight for the chance to kill the taste buds, so eat things like this last. The dragon roll was a more acceptable combination of shrimp tempura, eel, and avocado along with a head that was more palatable for the squeamish. If you're going to venture to that side of the menu, it's not a bad way to go.
Service at Oysy has always been fast and friendly. I've made reservations here, but found that to be unnecessary most of the time. They're usually busy, but seldom swarmed with sushi seekers. For about $25-30 per person, you'll get a better-than-decent sushi experience at a great location. For those in the South Loop, there's also an Oysy on South Michigan Avenue.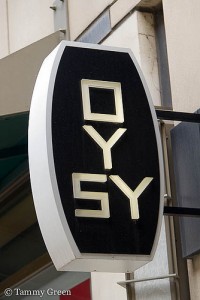 Oysy
50 E Grand Ave
Chicago, IL 60611
(312) 670-6750
-and-
888 South Michigan Avenue
Chicago, IL 60605
(312) 922-1127