Closed! Enjoy the memories…
I wanted Steve's Deli to take me back to New York to those delicatessens with paneled walls covered in mismatched photos of people who'd eaten there, counters where you have to wait for your ticket to be called, and signs pointing to where Sally taught Harry about the Big O. It's not like that at all. Steve's is more of a grocery store/cafeteria where they sell deli food. It's well lit, bright, clean, antiseptic and possessed of all the charm of a Rock-n-Roll McDonald's. Maybe the place will get dingy over time and absorb a patina of cool, but that's at least a good thirty years away.
The food needs to catch up a bit, too. My friend and I started our lunch off with some matzo ball soup. Steve's does a lovely presentation with a crispy slice of bagel threaded through a spoon and the chicken and matzo ball separated in broth. It catches your eye as the waitresses carry it through the dining area, so there's really little choice of not ordering it. Taste? I found the broth too be a little thin and the matzo ball fluffier than I care for. I know what I like and this wasn't quite there. Same with the side of macaroni and cheese we ordered to stave off this cold, nasty Spring. I don't know what they do to mac-n-cheese here, but I'm of the firm opinion that it should never have that particular after-taste or be that color.
The sandwiches were better choices. They were piled high with meat that could barely be supported by the amount of bread they were served on — and that's not a complaint, that's how it should be. However, both the tuna melt and BLT we had were a little bland. Steve's has the look of deli food down, but needs someone's Jewish grandmother to oversee the food coming out of the kitchen. Seriously.
After lunch, we perused the deli counter to sample knishes and chicken liver, but were taken in by the slowly rotating case of cheesecakes. Carnegie Deli in NYC has spoiled me for cheesecake, and the sight of this had me hankering for a slice. I asked the girl behind the counter if it was real, thick cheesecake or the fluffy substitute you sometimes get out of a package of Jell-o. She didn't know. Actually, when we asked her about a lot of the things sold at Steve's she didn't know much. Despite that, we got a piece, and hell yeah it's good like the stuff you get in NYC. It was easily the best part of my meal.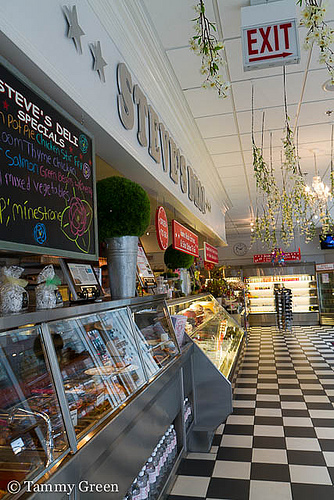 Overall, Steve's Deli is a little too bland, its staff too inexperienced, and the prices too expensive even for downtown lunch. I say save your dollars and calories and go back for the cheesecake.
Steve's Deli
354 W Hubbard St
Chicago, IL 60654
(312) 467-6868