Back in March, @paigeworthy held a haiku contest about sushi with a sushi-making class as a prize for the winning poem. Who could resist? Not me. However, my dream of learning to roll my own sushi was not to be. A random number generator chose @el_chorizo's entry instead.
Because the Chicago-Foodie-Twitter community is so small, I happened to run into my sushi nemesis at a tweet-up a few weeks later. Small talk turned into smack talk, and @el_chorizo agreed there was a sushi debt between us. We met at Fin Sushi to settle matters.
Fin Sushi is a new neighborhood offering in a shiny, revamped space. I like the light and layout of the restaurant, and thought it would be a friendly enough spot for such matters. There's an open kitchen in back and a long, patterned couch that divides the table space. The visual appeal extends to the details like a punch of color from over-sized flowers and Ikea-esque lighting. It's a nice place to linger over a meal.
The menu is a mix of trendy items and traditional Asian fare. We sampled a bit of both, starting with the bacon wontons. This appetizer didn't quite live up to its pork potential, but succeeded very nicely as a plain wonton — the perfect bite of hot cheese. The edamame was pretty okay, too.
We moved onto the sashimi platter to get a sampling of the freshest fish the restaurant had to offer. For people who aren't used to eating a healthy portion of raw fish, no matter how nice the quality and presentation, this can be an off-putting experience. Note to self: don't expose newbies to too much, too soon. It was a great platter, though.
We tried a Tom Yum Maki, which reminded me exactly of a Thai spring roll, only rolled in rice with a topper of shrimp. When we ordered the Philadelphia roll, we put in a request to leave out the avocado. They were accommodating at filled out the roll with larger portions of the other ingredients, which was nice. The only roll that I felt was lacking was the spicy tuna roll — the tuna had a mushy texture that I didn't care for, though the flavor was excellent.
The service was a little too attentive at times. After the seventh water refill, we started making jokes about how the waitress needed to meet her water quota. Speaking of drinks, Fin Sushi is a BYOB and they don't have a corkage fee. I didn't note a liquor store nearby, so if you're going to drink, remember to pick something up for dinner before you arrive.
Thanks to @el_chorizo for being a good sport about the haiku and for picking up dinner. If you want to try more sushi, let me know and I'll pick another spot or happily return to Fin.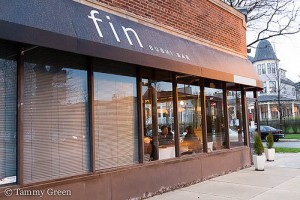 Fin Sushi
1742 W Wilson Ave.
Chicago, IL 60640
(773) 961-7452
Ginger tastes like fire
Rolls of flaming maki snap
The bounds of Winter