Saigon Sisters is a family run operation. Owner Mary Nguyen Aregoni left a 20 year career in I.T. to pursue a passion for the food she grew up with, her sister Theresa and husband Dan each contribute to the operations side of the house, and her 73 year old mother provides quality control for the pho. It may seem strange that 26 year old suburbanite with classic French training would be the family's choice to head their kitchen, but Chef Matt Eversman fits right in. That's because Eversman also comes from a close family. He grew up cooking with his mother and grandmother, so didn't blink at learning the ropes in Mama Suu's kitchen.
However, as important as it was to get a handle on Vietnamese classics and to fit in with the family dynamic, Eversman's job is to bridge the gap between food cultures and make Saigon Sisters accessible while pushing the bounds of Vietnamese cooking. His training at the Cooking and Hospitality Institute and stints at Charlie Trotter's and May Street Market certainly give him the background to make the attempt. Still, it's not an easy task. Results are often subject to friendly dispute between Mama Suu's authentic voice and Mary's business acumen. However, Eversman's modern sensibilities do win out with dishes like Hoison Glazed Quail and Baby Octopus served in ink rice, and inventive touches like rice formed into crispy tots.
He's joyful and excited by the challenge that he's earned and it comes across in his cooking. Time Out Chicago recently put
Eversman up for their "Breakout Chef of the Year" award.
I feel the recognition is well deserved.
Nguyen and Eversman aren't waiting for a win to continue growing the business. This Spring, they will add a rooftop garden with Eversman's mother, a certified master gardener, helping with the production of Thai basil, mint, cilantro and peppers. While there are no plans to chase the recent food truck craze, they hope to grow Saigon Sister's lunch catering, and expand dinner offerings as well as the public's familiarity with Vietnamese cuisine.
I've personally enjoyed my recent explorations into Vietnamese food, trying bahn mi from places around Argyle. The sandwich is a signature of the cuisine, though some feel the line between making it your own and pushing the rules too far can be a thin one. I like Eversman's version of the sardine bahn mi, especially. The texture of the baguette is perfect and there's enough heat to make it interesting. However, the prices at Saigon Sisters can't beat what you find around Argyle. Most of that can be excused by the convenience, attention to in-season produce, locally-sourced meat and the overhead of running a business in the West Loop. Still, most will wince at $7 – $9 when they're used to paying $3 – $5.
It's nice to have a downtown option for these grab-and-go sandwiches, but it's even nicer to have a sit-down Vietnamese restaurant just steps from the Clinton Green Line stop. Step in and try Chef Eversman's cooking and form your own opinions about whether Chicago's newest fusion of talent and food is a valuable addition to the neighborhood.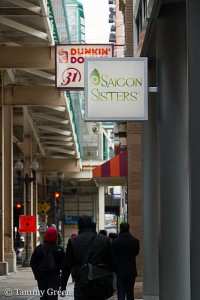 Saigon Sisters Restaurant
567 W Lake St
Chicago, IL 60661
(312) 496-0090
Saigon Sisters at the Chicago French Market
131 N Clinton
Chicago, IL 60661
Saigon Sisters on Twitter: @saigonsisters
Lunch was provided free of charge.