With so many great places in Chicago to get thin crust pizza, it's easy to forget about Pizzeria Via Stato. Chef David DiGregorio makes a cracker crust worth checking out, though. Unlike some of the thin crust pizzas out there, this doesn't get soggy with under the weigh of too many ingredients. The pizzas are cut tavern-style, which likely helps.
The classic margherita pizza with red tomato sauce, mozzarella and basil is noteworthy, but I especially like the white pizzas. My favorite is the roasted fennel with radicchio, mozzarella and parmigiano reggiano — the fennel comes out caramelized and the sharp cheeses provide a perfect counterpoint. It's so good.
Right now, Pizzeria Via Stato has an awkwardly named lunch special, "Just Bring Me Lunch, Pronto!" where you can get a cup of soup, sandwich and a chocolate tart dessert for $9.95. Sandwiches cover a decent array of chicken, meatball, ham and token vegetarian options. However, it's worth another $4 to upgrade to the pizza. With the hearty soup and decadent chocolate tart, you probably won't need to eat dinner.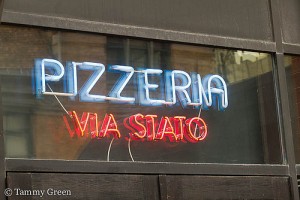 Pizzeria Via Stato
620 North State St.
Chicago, IL 60654-3853
(312) 337-6634
I was invited as a member of the media to try the lunch special for free.