CLOSED
Crêpes à Latte is an oddity on Irving Park Road. Walk inside, and you'll experience the design lovechild of Ikea's second floor and a sidewalk bistro in Europe. It's a bright, cheerful, happy space that clearly has no idea that it's nestled amongst businesses that scream "get off my lawn." While it looks slick enough to be a chain restaurant, it's actually Michael and Hailey Rosenstein's first effort. They refer to it as a flagship store, so expect more bistros down the line.
At Crêpes à Latte, they specialize in sweet and savory crêpes, making them on hot, round platters where customers can observe. Preparing them "al fresco" brought back my memories of scarfing a fresh-made nutella crêpe outside of Notre Dame. Was this the equal of Paris? Not quite, but it was still pretty good.
We tried a few savory crêpes including the avocado, tomato & cheese combo and the veggie stuffed with mushrooms, caramelized onions, red peppers and goat cheese. Both were served with a perky cucumber salad atop a slice of fresh tomato. I felt that some of the vegetables would have been better served as garnish (hello, hot avocado), but was generally satisfied with the quality. I would say more on the ham & cheese quiche, but when I blinked it was gone off my friend's plate. I'm assuming there's an endorsement in there somewhere.
We also sampled a selection of sweets from Crêpes à Latte, including a delicious strawberry-frosted cupcake, a decently executed chocolate croissant, and the dessert crêpe of my dreams — nutella banana. The nutella was the melty, gooey coating around slices of ripe banana, the whole thing was encased in a crêpe and dusted with powdered sugar. A healthy dollop of fresh whipped cream was on the side. We took turns dipping the crêpe into the whipped cream, extra nutella and even the strawberry frosting.
Someone decided that caffeination was the only way to improve upon this experience, and ordered a Toasted Marshmallow Latte, one of their signature espresso drinks. The peanut butter mocha also looked interesting, but we felt there were too many nut influences at the table. Maybe when the weather finally settles on Spring, I'll go back for one of their caramel frappes, green apple smoothies, or the frozen pink lemonade.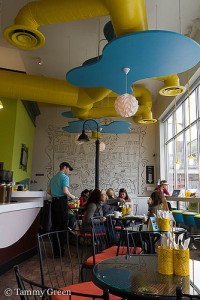 For a savory crêpe, drink and dessert, expect to pay between $10-$15 per person at lunch. Most breakfast crêpes are less than $5 each.
Crêpes à Latte
1840 West Irving Park Road
Chicago, IL 60613-2406
(773) 549-4444