Beijo de Chocolat means "kiss of chocolate", but the name doesn't go far enough to describe the wonderful chocolates you get from this small, Brazilian purveyor of desserts. They're particularly known for their signature brigadiero candies — dark or milk chocolate ganache filled with decadent, delicious, orgasmic chocolate. The only reason not to wolf them down at the counter is to take them home and enjoy with a fine glass of port…and to share with your Valentine, of course. Get a box of two for $3.70.
Bonus? If you go in before 11am, you can get a free doughnut with a cup of coffee. I plan to go earlier next time to complete my sugar fix.
Plan on buying chocolate for Valentine's Day? Let me know where you're getting your sweets on Twitter (@chicagobites) or in the comments.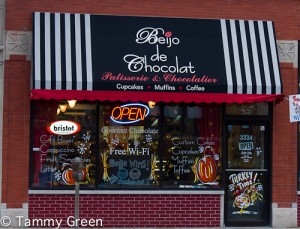 Beijo De Chocolat
3334 West Foster Avenue
Chicago, IL 60625-4830
(773) 267-0138