I'm on a quest to eat every menu item at Opart Thai House. You can catch up on things from the beginning or continue on to the latest installment: whittling down the menu.
When it's cold and snowy, I start craving fresh veggies. The Entrées section of the menu seems to emphasize dishes that feature one main vegetable, so I picked Pad Tuah Lun Tao (#67, $6.99). This dish was chock-full of lightly sautéed peapods in a slightly sweet brown sauce. I wish I'd told them to skip the tofu and double-up on the peapods instead. They were bright, perfect and very satisfying. I kept thinking that this dish would be better with some salted cashews — what does it say when I'm reworking OTH dishes in my head?
The Pad Prik Lard Khao (#60, $6.99) was my attempt to make a dent in the rice dishes. I ordered this combination of shrimp, onions and hot peppers medium spicy, hoping for a milder outcome with the mixing. However, I'm not sure why this was considered a dish because the components came served on top of the rice instead of being incorporated into it like the Fried Rice dishes. The only difference it seems is the rice doesn't come in a separate box. Baffling but tasty in a hot, savory way.
I'd had a taste of the Crab Rangoon (#21, $4.99) with the Sample Plate (#23), but was encouraged to try it again on its own by a Twitter follower whose handle escapes me. I may not remember names, but these Crab Rangoon will stick with me for a while. You get eight generously sized pieces that are perfectly fried. They're stuffed with cream cheese but you can actually see and taste crab inside, too. I especially liked the sweet dipping sauce that came with it. It's the standard sauce but with hot peppers, onion and bits of ginger. As with the majority of OTH sauces, I want a vat of it to take home.
I hadn't had something from the Salad section of the menu since my first order, so I sprung for some Pla Koong (#39, $8.59) to balance out the fried cheese of the Crab Rangoon. This was billed as fresh shrimp with lemon grass and Thai chili with hot & sour dressing. There were precious few vegetables in the mix — only three cucumber slices and one piece of tomato by my count — and a surfeit of shrimp and sauce. Soupy, too. It tasted pretty awesome — I'm a fan of anything with fresh cilantro and a kick. However, it was a stretch for me to call this salad. I know that Thai salads tend to be meatier, but I was hoping for a shout-out to American sensibilities. Guess I need to get over that.
My quest to eat the menu continues! The next entry will include my dining adventure with @Hurdler4eva. If you'd like to join me in eating everything on the menu at Opart Thai, I can always use the help. Leave a comment or send me a Tweet!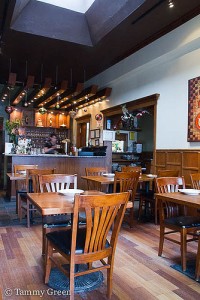 Opart Thai House
4658 North Western Avenue
Chicago, IL 60625-2043
(773) 989-8517