If you've ever ridden the Green Line past the Ashland stop, then you've seen the slightly run-down but still charming Victorian that houses La Luce restaurant. It stands out among the warehouses and dive bars along Lake street and always made me want to jump off the train and go see what this place was all about. I never did, eventually started riding the Brown Line, and forgot all about La Luce.
I would like to say that some things are worth the wait, but in this case La Luce loomed larger in my imagination than it delivered in reality. I'm not saying the portion sizes are small — they're lumberjack-sized. On the basis of volume, you won't go away hungry.
The meal started with serious carbs. The waiter delivered a large loaf of piping-hot, nicely-crusted bread, olive oil, and Parmesan, and it ended up being the best part of the meal. The calamari appetizer we started with was well-breaded, but very chewy. It's rare for me to leave calamari untouched, but I stopped after a few bites.
The eight finger cavatelli, which is one of my favorite dishes, was disappointing. The dish had none of the tomato-y brightness that you like to experience in a vodka sauce. I felt like I was eating orange-colored cream. The penne with eggplant and tomato also did an injustice to vegetables, leaving a bitter after-taste. The Farfalle Lucé was the most successful of the pasta dishes with the sun-dried tomatoes giving the sauce a needed punch. None of us came close to finishing our pasta.
The service here is uneven, too. In a nearly empty restaurant we had to search for our waiter a few times, and when we asked for wine recommendations, it drew looks of confusion. However, the free valet service is nice if you're driving. Also, the valet saw us paying our bill and had the car ready as we walked out the door. On a cold February day, that's the kind of service I'm looking for.
La Luce is an old-school place, with a kitschy-atmosphere and romantic vibe. You can get a decent meal for about $25 per person, but I would recommend taking that money and exploring other Italian establishments in the city.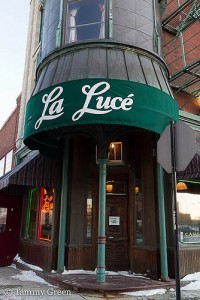 La Luce
1393 West Lake St.
Chicago, IL 60607
(312) 850-1900