I'm on a quest to eat every menu item at Opart Thai House. You can catch up on things from the beginning or continue on to the latest installment: dining in & out!
Dining Out
I decided to make a dent in the appetizer menu with an order of Fried Tofu (#10, $3.99). The tofu was cut into bland, bite-sized wedges and fried, but was redeemed by a tangy, vinegary sweet sauce that was utterly delightful. In the future, I will attempt to wheedle tubs of this sauce from Opart to use on everything. Seriously.
I also ordered the Pad Ma Moung Him Ma Pan (#81, $7.99) — a mix of shrimp, cashews, and onions, medium spicy. I know it was medium because after several orders, I've worked out my spicy comfort level. However, the order I picked up was not medium, so I got the chance to gage my tolerance for hotter food from Opart. OMG. A whiff seared my nostrils, a taste singed my taste buds, and the entire dish burned all the way through my system. It hurt so good. However, I will make an effort to emphasize medium on future orders. I'm not ready for more.
Dining In
Since I was feeling a bit guilty for dragging another of my friends to Opart, I let her pick the appetizer. She went with the Peanut Sauce Spring Rolls (#7, $4.99). These spring rolls are filled with eggs, cucumber, bean sprouts and tofu and are topped with a stickily sweet peanut sauce. I have no idea why, but they're served with jalapeños and slices of an unidentifiable meat. We should have asked what it was, but things came so quickly to the table that the matter was forgotten.
Soup never seemed like a good take-out choice, so I took the opportunity to try some on this outing. The Tom Yum Koong (#25, $8.99) was billed as a hot & sour soup, but tasted like spicy citrus soda. Huge, inedible chunks of ginger and lemongrass floated among straw mushrooms and prawns. Yuck. On the plus side, I liked the donut-shaped metallic serving bowl that held a can of sterno to keep the soup warm through the meal. Based on this experience, I'm a little anxious about trying the other soups on the menu.
My friend ordered the Pad See-lew (#46, $6.99), a noodle dish with a satisfying amount of Chinese broccoli and shrimp. This is a slightly sweet dish, but wasn't cloying like the peanut sauce that came with the spring rolls. Perfect comfort food, really.
Dining Out Again
I guess enough time passed between orders, that I didn't remember how much I hated the peanut sauce at Opart. Sigh. I took one dip of my Tofu Satay (#2, $4.99), and then chopped up the tofu and put it in another dish. I fear I've found the item that's going to be a chore in my eat-the-menu quest because this sauce is featured in other appetizers. Sigh.
Since I have enjoyed each of the curry dishes I'd tried, I had high expectations for the Gaeng Keow Waan (#90, $7.99). It's a mild, green curry with Thai eggplant, green beans that features coconut milk as a base. It was solid. It didn't wow me like the others had, possibly because I wanted something a bit more savory.
I also had high expectations for Goong Nam Prik Paow (#98, $8.59) because in ingredients and preparation it was listed the same as one of my favs, Plamuk Nam Prik Paow (#99, $8.59). Shrimp vs. squid, what could be so different? Well, there were green peppers instead of red, more onion slices instead of green onions, one was more savory than the others…the differences were subtle, but not bad. I need to ask more questions in advance, so I understand what I'm getting. I'm sure some of the variation is simply based on available ingredients. I would need to order the same dish week-to-week or month-to-month in order to judge, but that's a different project entirely.
In the meantime, I'll continue to eat-the-menu. I'm up to 26 out of 120 items. If you'd like to help me whittle down the list, please let me know!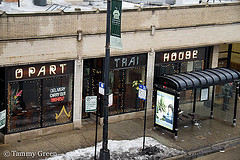 Opart Thai House
4658 North Western Avenue
Chicago, IL 60625-2043
(773) 989-8517