I'm on a quest to eat every menu item at Opart Thai House. You can catch up on my quest from the beginning or continue on to the latest installment: take-out triple!
I've made Thai-food a habit now — whenever I'm in Lincoln Square for any reason, I'll stop by for some take-out at Opart Thai House. I counted up the dishes, and am happy to report I've now tried 18 out of 120 menu items. It's like I can't be stopped! Here are the latest dishes in chronological order:
After dinner a few weeks ago with Mike & Chao, I realized I hadn't tried a noodle dish from Opart that I actually liked. Noodle dishes are normally my Thai stand-bys, so I picked up an order of Kuay Tiew Kee Mao (#50, $6.99) to put myself right with the world.
This dish is a mixture of flat noodles, cabbage, Chinese broccoli and bean sprouts in a savory sauce. I'm sad to say it didn't work at all. The combination of soggy noodles and crisp vegetables was a nightmare in textures. The added tofu didn't help matters one bit. It tasted okay, but I'm off of noodles for a while. If you have a recommendation here, please let me know. I'm a little desperate.
I bounced back from that experience to order what has to be my favorite dish thus far, Pad Chou-Chi (#88, $7.99), medium-spicy. The ingredient list is a little light for something that is so profoundly delicious: sautéed curry paste, cilantro + choice of protein. That's it. I have no idea what else is lurking in this dish to make it so good, but it's an awesome combination. I guarantee you I would not have ordered this before my eat-the-menu quest. I'm psyched to finish this project so I can order this again.
Pla Dook Pad King (#97, $8.59) made it home with me one night only because I was craving more ginger. Mmm, ginger. However, I made a tactical error in ordering this dish — the waiter was on the phone and punched it into the computer before I realized I had options. I could've gotten sole instead of the catfish, which I would've preferred, and I could've had this spicier than what he assumed (mild). Note to self: never be rushed in the pursuit of Thai food.
On the plus side, there was an agreeable amount of ginger, peppers and celery. I think I would've preferred this dish more without any protein because on the big negative side, that catfish cut through everything. My coat smelled like catfish, my house smelled like catfish, ugh it was everywhere. Lesson learned. I should probably order this dish again with more spice and a different fish. It has potential.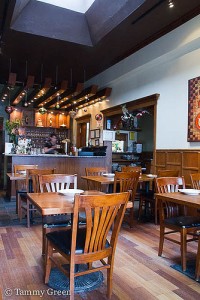 That's my triple take-out Thai treatise. If you want to join me in this madness, I'm happy for the company. More next time!
Opart Thai House
4658 North Western Avenue
Chicago, IL 60625-2043
(773) 989-8517