I'm on a quest to eat every menu item at Opart Thai House. You can catch up on my quest from the beginning or continue on to the latest installment. And if you want to join me, just leave a comment. There's plenty of menu left to try!
A few weeks ago, I convinced a friend to help me tackle the menu at Opart Thai. When we got together for lunch over the holidays, she didn't need any arm-twisting.
We both have a mania for the ginger dishes, so she ordered the Pad King (#70, $6.99). We convinced the waiter to leave out the proteins and load up the dish with extra vegetables instead. They're very accommodating here and heaped broccoli, carrots, cauliflower and peapods onto the plate along with a light, savory-sweet ginger sauce. Ginger is so good for what ails you. I'm a little concerned that I'm going to burn through all the ginger dishes before the end of the quest.
I realized I hadn't tried anything in the seafood section of the menu, so I waded in with an order of Plamuk Nam Prik Paow (#99, $8.59). It's squid with red peppers and onions which I got medium-spicy. The squid was tender, not rubbery at all and held up well against the peppers and chili paste. I'm not fond of squid, but I would definitely get this dish again.
Verdict? Add two more dishes to the "eat-the-menu again" list. More to come with my holiday take-out adventures at Opart Thai House.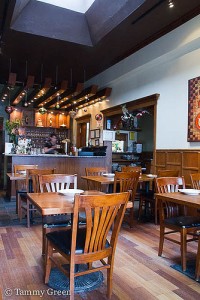 Opart Thai House
4658 North Western Avenue
Chicago, IL 60625-2043
(773) 989-8517