I joined @kristainchicago and a group of food & wine bloggers for an inaugural 2011 brunch at Cumin in Wicker Park. Cumin recently received a Michelin Guide Bib Gourmand and I, at least, wanted to see if it was worth the accolades.
Like most Indian buffets, it was cheap and plentiful and rife with the usual assortment of Saag, Dal, Pakora, and Tandori Chicken. Unusual items included the goat marinated in Nepalese spices and something referred to as carrot fudge, which I believe was a sweet & nutty attempt to get me to eat my vegetables. The food was fine and that seemed to be the consensus at the table. Maybe they shine during regular table service? I don't know.
Cumin is a solid restaurant that's clean and stylish. It's conveniently located and the waiter handling our table was attentive and fast. Still, if I want really good Indian food I think I'll continue to make the trek to Devon. The restaurants aren't spiffy up there and it's not all that convenient. However, the food is distinctive, authentic and worth multiple trips through the buffet line.
If you've been to Cumin and think I should give it another try, please let me know. Better yet, share your favorite restaurant on Devon.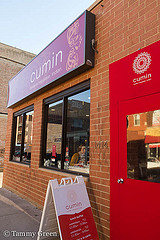 Cumin
1414 North Milwaukee Avenue
Chicago, IL 60622
(773) 342-1414
The weekend buffet is $12 per person, plus drinks.
Thanks to @kristainchicago for organizing the outing and to @bunnyandbrandy, @byobandits, @adambai, @brokewino, @TheChicagoWino, @rappjj, @lacabezag & @demilove for making it a great time!