I don't know about you, but when the weather turns cold and nasty, I have to have soup. I was in the neighborhood yesterday for sandwiches at Ba Le, but I couldn't stop thinking about how good a bowl of congee would be. I went across the street and grabbed a bowl.
For those who aren't familiar, congee is a savory rice porridge that practically screams comfort food. I got mine with shrimp and loaded it up with bean spouts and a dash of Sriracha. If congee isn't your thing, Tank Noodle also has a huge selection of pho — soup made with rice noodles, tons of veggies and beef broth.
There's plenty of cold weather ahead of us so I'll probably be back for another bowl of comfort soon. If you've got a favorite spot for soup, please share!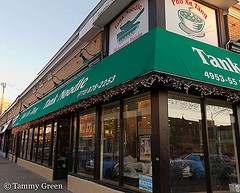 Tank Noodle
4953 North Broadway Street
Chicago, IL 60640
(773) 878-2253