The sandwich I picked up at Ba Le was the best and cheapest meal I've had in a while. For $3.95 I got two Subway sandwiches worth of fried tofu, fresh avocado, swiss cheese, mayonnaise, pickled daikon, carrots, lettuce, tomatoes, olives, vinegar, jalapeño, red onion, cilantro, soy sauce, salt & pepper all served on a freshed baked baguette. It was seriously good and I'll be back to work my way through their list of sandwiches. The most popular, based on the number of times people ordered it while I was there, had to be the Ba Le special with pate, ham, headcheese, and pork roll. It seems like every other person walked away with one. However, I think I need to put the boneless sardine sandwich on my list for next time.
If you're not in the mood for a sandwich, Ba Le has grab-and-go coolers filled with drinks, desserts, noodles, salads, and pork buns that the staff will heat for you. There's another wall filled with sweets and pastries. I was tempted by the sticky rice and selection of mousse, but ended up with an apple-filled pastry for $2. That's the danger of lingering by the counter trying to make up your mind, right?
Still, the damage for lunch was less than $7. For that price, I think I'll be back again very soon. Have a favorite sandwich at Ba Le? Let me know what I should try.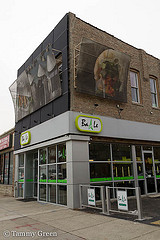 Ba Le
5018 N Broadway St
Chicago, IL 60640