Abuelo's Mexican Grill is conveniently located under the Damen-Cermak Pink Line stop, which was the biggest draw when I was on the hunt for a quick and cheap meal with friends. It's a cute spot with walls covered by album and National Geographic covers, kitsch-y Christmas lights, and sun-faded caricature table toppers. Soccer matches play on two large, flat-screened TV's, which are at least a decade newer than anything else in the place.
We started with an order of guacamole. The basket arrived promptly and was overflowing with freshly made chips. The guacamole? It was equally fresh and plentiful, but was bland and tasted like someone had mixed in too many lemons in an attempt at zing. The guac went untouched after a couple of bites.
The tacos we ordered followed the same pattern — lots of fresh ingredients but no depth of flavor. After a disappointing taste of the bottled salsas, we decided to stick with the blandness. The shrimp burrito was a different story. It had evenly distributed cheese and beans, and every bite was a nice combination of crunch and shrimp. It was very tasty and the highlight of the meal.
If you happen to be at that L stop and don't feel like trekking over to 18th, Abuelo's is decent. We paid less than $10 apiece for an ala carte meal that didn't wow anyone but did manage to fill us up. The only over-priced items? The $1.50 Diet Cokes.
I'm always on the look-out for recommendations in Pilsen, so please leave a comment or send a message via Twitter if you have recommendations.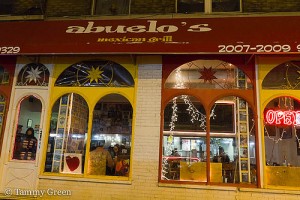 Abuelo's Mexican Grill
2007 South Damen Avenue
Chicago, IL 60608-2624
(312) 733-0329