I'm on a quest to eat every menu item at Opart Thai House. You can catch up from the beginning or continue on to the latest installment…
Mike & Chao of Mike & Chao Chow joined me and a friend on my eat-the-menu quest at Opart Thai House. Since it's a big menu, I'm very happy for the help. We started things off with the Sampler Plate (#23, $8.99), which was a smattering of fried seafood appetizers including egg roll, fried shrimp, fried shumai and crab rangoon, each cut into fourths. It was a decent start to the meal and the right amount for the table.
Chao, the quieter, more heavily tattooed half of the duo, ordered the Pad Lard Nar (#45, $6.99) with beef. It's his baseline Thai dish, and he says each place makes it a little bit differently to put their own stamp on it. I trust that's true because Chao grew up on this stuff and knows whereof he speaks.
However, we weren't impressed with this version. I thought it tasted about average and was too soupy. Lard Nar shouldn't be this soupy, right? Didn't think so.
Mike, the verbose and expansive half of the duo, ordered my baseline Thai dish, Pad Thai (#43, $5.99) with chicken. Maybe I've been eating out of my comfort zone lately and that's what made this dish seem bland and oily to me. I really had higher expectations for a such a popular dish. We called strike two and moved on to the next.
The Chicken Fried Rice (#56, $5.99) was standard fare. Nothing wrong with it, but nothing exceptional either. It's warm, salty, safe comfort food. We moved on…
Mike and I agreed that the Peanut Sauce Lover (#80, $7.99) with tofu was the winning dish. It's an agreeable combination of cashews, onions and tofu mixed up with a thick, spicy peanut sauce that had just a hint of sweetness. It went well over rice and didn't get cloying or congealed like I thought it would. I want to shout-out a thanks to commenter Sam for endorsing this dish! You were so right.
The holidays will probably provide ample take-out opportunities, so look for more eat-the-menu entries in January. If you want to help me whittle down the menu, let me know! And special thanks to Mike & Chao. Go follow these guys on their eating excursion through Asia. Looks like an adventure!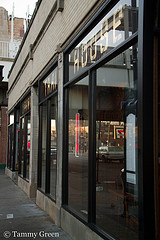 Opart Thai House
4658 North Western Avenue
Chicago, IL 60625-2043
(773) 989-8517