A friend wanted to help with my quest to eat everything at Opart Thai House, so we met there for dinner last week to make a dent in the menu. She normally gets the Tom Yum, but the quest inspired her to turn a few pages and see what else was available. She's an even pickier eater than I am, and that inspired me to go a little further afield and order off the Hot & Spicy section of the menu.
I started with the Pad Prik King (#84, $6.99) with tofu. I ordered it medium-spicy since I'm not sure what the scale of spicy really is at Opart. This dish had strips of sauteed ginger and curry paste added more heat. The green beans were crunchy and I'm pretty sure they'd never been frozen. It was an excellent dish and I would definitely order it again, and the medium heat was about right for me.
My friend ordered the Kana Naam Mun Hoi (#68, $6.99) with shrimp ($1.50). Unlike my dish, this was a savory combination of Chinese broccoli in oyster sauce that was easy on the palette. It was a little sweet for my taste, but provided a nice counter-point to the spice of the Pad Prik King.
We lingered a bit and our check came before we'd made a firm decision about dessert. I'm not sure the staff at Opart is used to people lingering a bit over a meal, else they're just incredibly efficient.
We sent our waitress back with the check and an order of Thai Custard (#113, $3.00). The texture of this is completely unlike flan or custard, and that threw me off a bit. It was cake-y in mouth feel, but with a yummy coconut flavor that almost offset the strangeness. The desserts are the shortest section on the menu, so my expectations aren't high for sweet finish to future meals.
The restaurant is on a busy section of Western with a bus stop in front of their front door. If you sit up front, there's an interesting parade of people walking by or waiting for the bus. Despite all the traffic outside, it was never noticeably loud from the hustle and bustle. Inside the restaurant fills up fast for dinner, but there are three different dining rooms so the buzz stays to a minimum.
The other thing I noticed were several tables that had bottles of wine. I looked at the door and both the on-line and paper menus, but didn't see anything posted about BYOB. I'll ask the next time I'm in there.
More to come…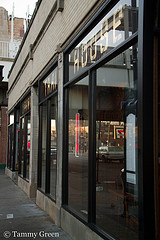 Opart Thai House
4658 North Western Avenue
Chicago, IL 60625-2043
(773) 989-8517