I don't know about you, but this cold, nasty weather makes me want to stay home and eat Thai food. So when the snow started falling, I curled up with a bowl of Pad Tuah (#71, $6.99) with shrimp. The green beans in this dish are sauteed but still have a satisfying crunch. I'm quickly running out of dishes that feature green beans and that makes me a little sad because they've all been tasty so far. This dish wasn't spicy and had a slightly sweet sauce that left me craving just a bit more.
A few days later I was back at Opart, this time for the Gaeng Panang (#89, $7.99). I ordered it hot, but the waitress put the order in as medium. I'm not someone who's crazy for hot-spicy, but I think I could handle the curry hotter than they think I can. Anyone else have trouble convincing Thai places that Americans can handle more heat?
Anyway, I didn't like this curry as well as the first curry I tried. That's probably because the Thai basil in the Panang wasn't as substantial as the sweet potatoes in the Gaeng Gari. I like a little something more than than just the sauce.
On a side note, I have to give kudos to Opart for their carry-out containers. They are sturdy and seem to hold up well in the dishwasher, which means they won't end up in a landfill any time soon.
Next up on my eat-the-menu quest? A recap of my dinner with the ever-delightful Mike and Chao.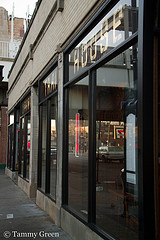 Opart Thai House
4658 North Western Avenue
Chicago, IL 60625-2043
(773) 989-8517