Even though Chicago is apparently famous for its steakhouses, surprisingly we haven't reviewed that many of them.  Maybe it's because many of the ones that are conveniently located are chains, or maybe it's because the menu from one steakhouse to the next is not that varied. Whatever the case, more steak needs to find its way into my reviews.
With this in mind, and thanks to a generous gift certificate from my friend Amy, I found myself headed to Fleming's for a steak dinner recently, something I wouldn't normally splurge on.  The whole evening proved to be enjoyable and a real treat, but most importantly it got me thinking about the meat I eat and what I enjoy about it.  For me, the more I eat out, the more cosmopolitan my palate becomes, and this applies to meat as well.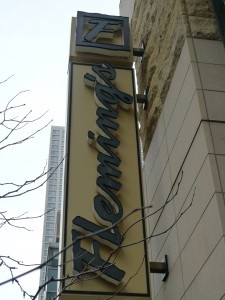 Once upon a time a tender filet mignon would have been my favorite, the hallmark of a good dining experience.  Now, even though I still like that cut every now and then, I'm sort of  tired of it, and I'd rather have something that has more taste.  I find myself looking for bone-in cuts that aren't masked with heavy seasoning or sauces.  "Tender" and "well-done" no longer equal well-prepared — I don't mind wielding my steak knife and chewing a bit if it means I get something that is more flavorful and interesting.
Which leads me back to Fleming's.  This national chain has the steakhouse drill down.  It presents a pleasant and cohesive dining experience from beginning to end… excellent service, a knowledgeable staff, a nice classic menu, and an extensive wine list, all of which you will pay for.  It's all good. I'd recommend it if that's what you like.  I had fun myself. But when it comes down to the fundamentals, Fleming's is no different from the others of its ilk like Morton's or McCormick and Schmick's.  Although it is worth mentioning that Fleming's has some tasty and affordable happy hour food options in the bar.
If you're looking for a more original full-dinner experience, I'd still go to David Burke's Primehouse. (In fact, I went to a media tasting there that was about pairing Sam Adams lager with a particular cut of meat, and that's well worth trying.)  Gene and Georgetti is next on my list. Where else should I go? I'd love your steakhouse  suggestions.
Fleming's
25 E Ohio St
Chicago, IL 60611
(312) 329-9463