Don't mind getting up early? Want to feed a crowd for nearly nothing? Head to Phoenix in Chicago's Chinatown. It's an incredibly cheap place to feed a large group, but only if you get there early enough to beat the crowds. And by early enough, I mean be in line before 11am on a weekend day.
Though all the servers speak English, it helps to have someone at your table who's had dim sum before and help negotiate through any food allergies and to point out what's good versus what's average dim sum. If it weren't for such a friend, I'd never have known about the soup served in dumplings or which delectably wrapped goodies were good for the gluten-intolerant.
The other piece of advice I can offer is to pace yourself. A lot of food comes out very fast, and while it's tempting to order everything you see, it's also perfectly fine to wave those carts off. They will come back.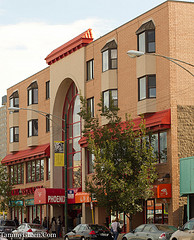 Phoenix
2131 S Archer Ave
Chicago, IL 60616
(312) 328-0848
Stuff yourself silly for less than $20 per person.