With posters of the rat pack on the wall and a swingy, jazzy vibe, Natalino's has a cool charm that you want to embrace. It's a relaxing spot, and we thought it would be great for a low-key dinner for a group of eight. The table was ready when we got there, and we were seated right away. Olives and bread were put out immediately, and the waiter took our drink orders quickly. In fact, service was good throughout the meal. I've been to places that say they accommodate large groups, but treat the table more like an assembly line than a party. Our server seemed to genuinely like the group and treat us well.
The food on the other hand was a disappointment. We had fried calamari to start, and it was a generous serving. However, the calamari was chewy and a little tough to swallow. Unfortunately, it set a precedent for the rest of the meal — everything was served with large portions but mediocre execution. This was true of the pasta, the roast chicken and fish, and even the desserts. Nothing was horrible, but it didn't stand out either. We paid about $45 per person, which I felt went towards the volume of the meal and not the quality.
Despite the good service, I don't think we'll be back to Natalino's any time soon.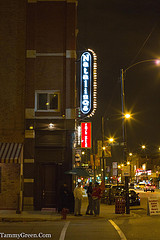 Natalino's Italian Ristorante
1523 W Chicago Ave
Chicago, IL 60642-7650
(312) 997-3700