My friend Mark invited me to try a new Korean street food spot in Lincoln Park called Del Seoul. Cheap tacos sounded good to me so we met early on Friday before the place started getting mobbed. It was a good thing we came early because people started to line up for the food soon after they opened.
I got a couple of the sesame-chili shrimp tacos while Mark tried the beef short rib, pork and chicken. The tacos are a decent size, so two were enough to fill me up. They were a little skimpy on the meat, however, and more American than Korean spicy. We loaded up on the sriracha sauce to give them some flavor.
I tried the market pickles with toasted sesames and chili which were pretty good, but wish I'd seen the kimchi and pork belly fries. Bet they would've been tastier than the gamja fries with its drab aioli.
It was far from authentic, but for $10 it was a decent lunch. If I were in the neighborhood, I'd pop in for a banh mi sandwich, bibimbop or perhaps some dumplings. Have you been? Let me know what you think!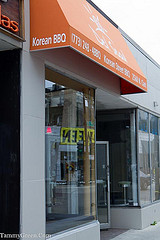 Del Seoul
2568 N Clark St
Chicago, IL 60614
(773) 248-4227