Last week I went to lunch with a friend who wanted to satisfy her Thai fix before leaving Chicago for a place without decent Thai. Even though it's not my idea of a fix, Panang was conveniently located for both of us and priced right. And bonus? We had no problems getting a seat by the window for a weekday lunch. We were one of the few occupied tables, but it took a while to get our menus and much too long to place the order. Slow service was the name of the game throughout our meal.
We started with an order of doughy spring rolls that were stuffed with avocado, cucumber, bean sprouts and egg, and then doused in river of tamarind sauce. It looked pretty, but was a soggy, flavorless mess. Our order of green curry quickly made up our appetizer's flavor deficit. It had a satisfying mixture of Thai egg plant, green beans and basil that left us sweating from the spice. We achieved a better balance with the Thai fried rice with shrimp. It was salty, satisfying, unremarkable, and didn't require the endurance of our curry dish. I drank a gallon of water to counteract everything I ate and still felt dehydrated.
At the end of lunch, I asked my friend if she'd satisfied her Thai fix. She smiled and shrugged her shoulders. I guess she has a reason to come back to Chicago even if it means we end up eating Thai somewhere else.
Lunch for two was about $25.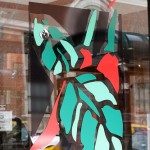 Panang Noodles & Rice
800 N Clark St # 1
Chicago, IL 60610-3220
(312) 573-9999