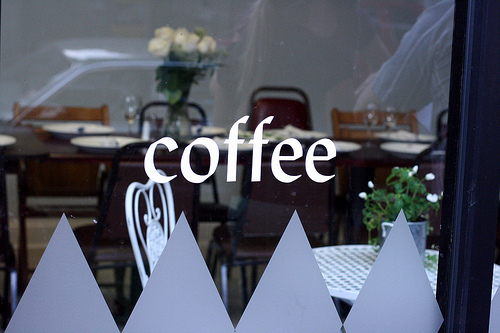 I splurged on a toffee mocha at Starbuck the other day, and it was so painfully sweet that my teeth still ache just thinking about it. Ick! What happened? Have Starbucks mochas always been that sugary? I didn't remember them leaving such a chalky taste in my mouth, and I said as much on Twitter. I don't want to give up mochas all together, and luckily our followers had some excellent mocha drinking  advice and opinions:
@denas: ours are pretty good 😉
kitchensinkcafe: @@ezbake is adorable! i believe they are accessible.
@ezbake: Agreed. Who takes mochas seriously? They are integral to my winter survival, yet I feel like an amateur whenever I order one.
@ezbake: This, of course, was me pondering out loud what shop does a mocha justice – not a judgment call on those who drink them 🙂
@BitXDeadweight: Intelligentsia's mochas are exactly right. Get getcherself one, friend.
@TippingDaCow: Agreed. The one near Division/Milwaukee is the exception. Also, you can ask for a "one pump" or "two pump" drink.
@trishytroo: Saw 50-something executive looking dude order a VENTI hot choc. a downtown 'Bucks last week in the afternoon. You go brutha!
ChicagoBites: And pricey! :/ @@trishytroo RT: Ya know what? Starbucks mochas are just too sweet. Forgot about that.
ChicagoBites: I've switched over to @@natebeal. I was sad to find out the $.99 any size iced coffee deal was over. $2.29 is still doable!
@DriveBuickChi: I saw a girl who had to be 4-6 last night chugging one down like her mom, i slightly cringed.