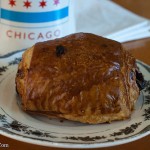 It's been a busy few weeks at Chicago Bites. In case you haven't had a chance to catch up, here's where we've been eating:
Croissant Quest 2010 continued with a look at Lovely Bakery. We're still looking for places to try, so be sure to send us to your fav spots!
Next, we took in the old world cuisine of Little Bucharest Bistro.
When the temperature started climbing it looked like a perfect time to scope out the cool sweets at Caffe Gelato.
The Taste of Chicago opened, and all we could see were turkey legs. And the people who eat turkey legs.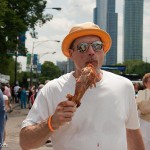 We had a brush with fame at Mayne Theater's Act One Cafe where we saw Kate Flannery from The Office. Wish the food was as charming as her.
Zagat released it's 2010/2011 guide for Chicago, and we had a little chat with Tim Zagat about what's inside.
Had a little dim sum and then sum at Lulu's in Evanston, and then finished things off with a few cocktails at the new bar atop the John Hancock Observatory.