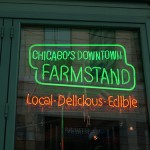 If you would like a pair of tickets to see Chef Cat Cora at Chicago's Downtown Farmstand, please leave a comment or send us a tweet. We'll randomly pick someone by end of day to attend. Cat Cora will be at the Farmstand, 66 E. Randolph Street on June 11 between 6 – 8 p.m. Yes, that's tomorrow!
The 411? Chef Cat Cora is the only female chef on the Food Network's Iron Chef America, cookbook author, and founder of Chefs for Humanity. There will be a food demonstration, discussion with open Q&A, and signing of her new book, Cat Cora's Classics with a Twist.
If you want your tickets to be a done deal, you can call 312.742.TIXS (8497), get them online, or pick up them up in person at the box office located at 66 E. Randolph Street. The box office is open Tuesday through Saturday, noon to 6 p.m., and Sunday, noon to 4 p.m. It's $35 which includes the price of the book.
Best of luck and we hope to see you there!