The last stop on Chicago Bites' 2010 Restaurant Week tasting tour was The Chicago Firehouse, a steakhouse located in a charming building that used to be a real Firehouse. It was built in 1905, and much of the original structure has been preserved both inside and out, including the intricate tin ceiling, the tile walls, and two fire polls in the bar.
Steakhouses are too often cut from the same cloth, from their dark wood-paneled interiors to their uninspired side dishes.  But the traditional fare at Firehouse, like the building itself, has a bit more character, and its Restaurant Week offerings reflected that.  For example, the Cesar salad starter was light and fresh, and the eight ounce CFH prime steak main dish was topped with a blue cheese crust and red wine sauce that was a wonderful complement — not at all overpowering.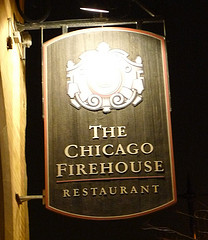 We wandered off the set menu to order sides — maple whipped sweet potatoes and grilled asparagus. Both were excellent choices!
Of the two desserts on the Restaurant Week menu — key lime pie and three-layer chocolate cake — the pie is the standout.
There's still one more day before this week's dining deals are done, and Firehouse is worth a visit if steak is what you crave.
The Chicago Firehouse
1401 South Michigan Avenue
Chicago, IL 60605
(312) 786-1401 | Make Reservations
Get directions
Firehouse's full Restaurant Week menu