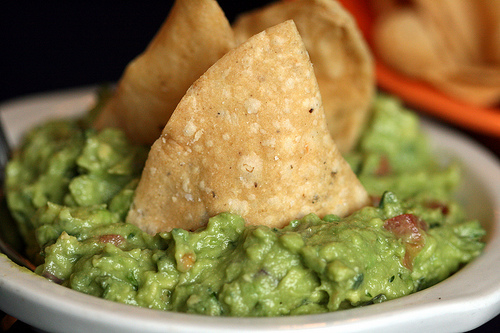 There's a football game on Sunday and everyone's got ideas about what to nosh. From a side of beef to super white tuna, here's what you're chowing down on during the big game:
@JHO7986 Buffalo dip!!!
@brassfrog SBS- smokin' hot (w/Sambal Oelek) mango salsa over hummus dipped out with TJ's scooper organic corn chips.
@CMinChi Homemade Pokey Stix – yum!
@desireekoh13 Breakfast grub – 7am kickoff in Singapore!
@Piratealice I hear there will be an assortment of wings where I'll be going.
@KC_Gulbro Making wings and smokies with rasperry mustard sauce.
@spicyasian We're having a sushi party!
@ChiFoodPlanet Need to get wings!
@maggiehendricks If I was ambitious, THIS. (via @TheStarterWife)
@MJEats Checkout Ben Pao's Super Bowls!
@natebeal MEAT!
@nology_chicago Dipmania! Buffalo Chicken Dip, Guacamole and Cheesecake dip…for the ladies.
@BitXDeadweight Mini Chili casseroles with jalapeno cornbread top/bottom. Personal favorite Tater Pigs. Cored potato stuffed with breakfast sausage & baked in foil Top w/cheese, sour cream, chives, etc.
@SpaAngelsChi Catering from @Stevesdeli!
Have a question for the Twitter community? Leave a comment or send us a tweet!