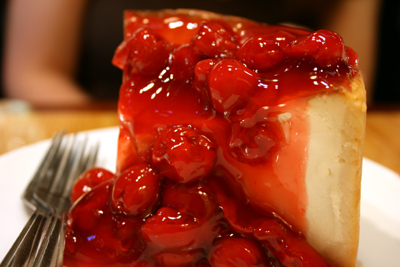 In order to help a friend out with that *special something* to buy as a foodie NYC souvenir, we asked our Twitter community what a definitive gift would be. Here are some of your answers:
@osburnrenn Burger from SpottedPig, best souvenirs get in your belly!
@ChefBogy sore muscles from laughing with friends.
@BWCookieCompany your picture taken outside of diners that have been in movies/tv shows.
@kitchenartist RT @apathak: Black & White cookie purchased at JFK on your way to the gate…
@i8la stealing silverware from la Bernadin or daniels
@girliefromthed NYC foodie souvenir: Marie Belle hot chocolate, cupcakes from Sugar Sweet Sunshine, H &a..
@purkage NYC foodie souvenir: Marie Belle hot chocolate, cupcakes from Sugar Sweet Sunshine, H & H Bagel
@nSquib bagel from H&H, magnolia cupcake, or choc walnut cookie from levain.
@MollysKitchen A "definitive foodie souvenir from NYC"? A receipt from a David Chang restaurant.
@chibrunchblog anything that has to do with big slice pizza or photo montage with street food vendors
@ilyses A New Jersey shot glass
@DavidHammond A fantastic cchip walnut cookie from Levain bakery!!! The best you will ever eat!
@DavidHammond A doggie bag filled with steaks from Peter Luger?
@chowbelle A friend had me bring macarons from Bouchon. But there's not much that's not imminently perishable that's worth bringing back.
@kristainlondon Anything from Dean and Deluca
@Cuprisin a baker's dozen of bagels from H&H. i'm partial to the salt bagels myself.
@MollyLipsitz A friend brought me chopsticks in the wrapper from Chinatown's Joe's Shanghai, home of the best soup dumplings.
World Vegetarian Day bagel!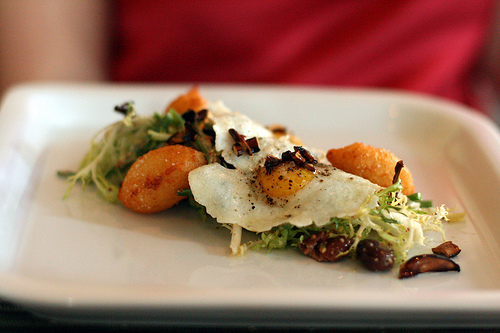 We also asked how people would celebrate @desireekoh13. The answers ranged from the sublime to the meaty:
@PlittSeafood Dharma Garden in Old Irving Park.
@emilyhomer1 All you can eat salad bar at Karyn's on Halsted – a bit pricey but worth every penny!
@JessamynC I'm not even a veg, but I love Chicago Diner!!
@cherylbowles Chicago Diner!!!
@HaleyKaren Everything's pretty tasty at Mana, but definitely try the slider and the cucumber sakerita — you won't be sorry!
@beerad Love my veggie spots! My fave is Mana.
@DancingDavidE I had a giant Reuben
@marzlet for #worldvegetarianday I'll have one piece of bacon instead of two!
@jarod8bit for world veg day going to ras dashen. Yum can't wait!
@bportseasoning ironic… Thinking about getting a steak.
@stlbites I'll be eating meat.
@MerrittPR Eating a 100% grassfed beef hamburger
@FRITZPASTRY It's not necessarily a vegetarian restaurant but Pita Inn has the most amazing vegetarian combination plate. Yum! Want 1 now
Twitter! Fritz has all veg lunch menu
Thanks to everyone who responded! If you have a question for Chicago's food community, leave us a comment or send us a question on Twitter!