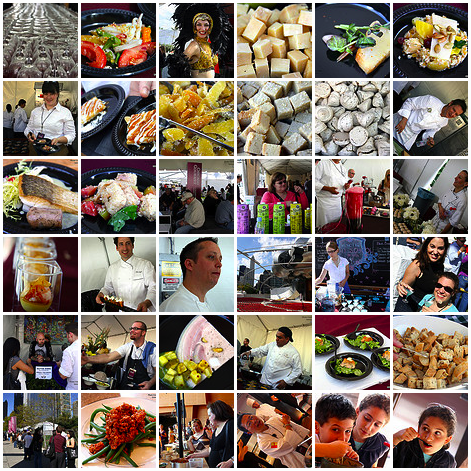 Our second day at Chicago Gourmet was a leisurely stroll from bite to bite and sip to sip. We chatted with fellow foodies and local chefs as we grazed, soaking in the sun.
Highlights included mini burgers from Rockit Bar and Grill, heirloom tomato panzanella from The Bristol, Caribbean ceviche from Riva, smoked salmon with early grey and ginger noodles from L20, lobster boil from Tru, pear and port wine cornets from Les Nomades, and Beet foam from NoMI.
But, hands down, the wining food category of the day was dessert. Treats from C-house, Floriole Bakery, and Bittersweet Pastry Shop and Café were all fantastic, but C-House's sour candied citrus and Floriole's vanilla shortbread bites were the sweets that disappeared off our plates so quickly we seriously contemplated going for seconds, thirds and fourths!
Chicago Gourmet truly showcased our city's finest food artisans, and the chefs themselves rose to the occasion, illustrating their talent and the pride they take in their work.
There was only one part of the event that grossly contradicted some of its messaging. Many of the chefs there showed an active interest in using organic, locally sourced food in their recipes, and the topic of "being green" in general came up time and again in cooking demos and casual conversation.
That's why it was surprising to see so much waste at Chicago Gourmet. The majority of the food was served on paper plates with napkins and plastic ware that was not recyclable. So the trashcans filled up quickly, and the staff had to rush back and fourth through the crowd on golf charts piled high with bulging sacks of garbage every few minutes.
It wasn't that an effort wasn't made to be green – Evian water had bottle-recycling bins (reminiscent of huge fabric softener bottles) randomly placed throughout the park, and there were big recycling containers next to the city trashcans too, even if there wasn't much to recycle. Attendees were also given re-useable grocery bags to carry along with glass stemware.
Still, with the food industry putting such an effort into being more environmentally conscious, it would be good to see Chicago Gourmet double its efforts for future events.