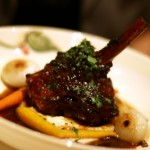 I wandered by Table 52 Thursday night with fried green tomatoes on the brain. I'd heard Art Smith's are excellent (thanks @accox!). So I couldn't resist taking a glance at his menu, and that was all it took for me to pull up my chair and stay awhile.
Tammy and I reviewed Table 52 when it first opened, and it's very much what it ever was. Even the deviled egg amuse bouche and biscuits are the same. The service is outstanding and there is no doubt that the food is high quality. Still, I can't help but wonder what Smith could do if he kept it simple and more affordable.
Every staff member who waited on me was attentive and knowledgeable – even the new guy who'd only been there two weeks.
I asked for a table for one, and sometimes that throws the service off. Waiters have a tendency to either check-in too often, or not at all, but Table 52 struck the perfect service balance. I felt at ease taking my time there – leisurely sipping wine and munching on appetizers at a table outside. In fact, the maitre d' even brought me a copy of Smith's new cookbook just in case I wanted something to read. I really appreciated the gesture, and it was fun to peruse.
The fried green tomatoes were very good indeed. Served with goat cheese, greens, applewood-smoked bacon, and a sun-dried tomato tapenade, how could they not be? Yet, I found myself wanting more tomatoes and fewer garnishes.
The woman at the table next to me wished for the same sort of simplicity from her jambalaya.
"I'm from Louisiana," she confided, "and I miss the food there. It's not that this isn't good, it's just so gourmet. There's no sausage in it!"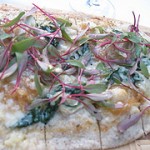 I also ordered the roasted artichoke and caramelized onion pizza served with sautéed baby spinach and black diamond white cheddar. It was the staff's recommendation, and it's excellent. It has a well-balanced combination of tastes, and just melts in your mouth.
The only thing that might top it is the pecan pie. Now, I have very high pecan pie standards after tasting the best on earth at the Old Pecan Street Café in Austin. I have to say that the pie at Table 52 comes very close to it! I'll be going back soon for another round of pie taste tests to see if it tops the pie at the Downtown Farmstand.
Dessert may be the only thing I get when I go back though. Table 52 has a price tag that's not unusual for places of its ilk in the Gold Coast, but you're also paying for a name, and I'm not entirely sure it's worth it with all the other contenders in the neighborhood.
"Oh! Are you an Art Smith fan?" one waiter asked as I snapped shots of my food.
For once, I was grateful to be in the realm of a celebrity chef – where camera-carrying foodies regularly crawl out of the woodwork. There was no need to explain myself!
Table 52
52 W Elm St
Chicago, IL 60610-2769
(312) 573-4000
Get directions