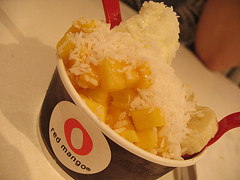 I've been a little baffled by the string of chain stores serving authentic frozen yogurt that have popped up throughout the city. There's often a line of people waiting to be served weaving out the door.
Maybe it's because I grew up eating chocolate dipped cones, but I've never seen the appeal of tangy yogurt even if it is good for you. I've never seen the appeal… until now.
After a not so hot experience at Berry Chill, I wandered into the new Red Mango on Clark the other night to give authentic frozen yogurt another try, and it really hit the spot! Was it because I was prepared for the tang this time around? Or because the flavor of the yogurt was overshadowed by the mango, coconut, banana, and honey I had piled on top of it? Maybe.
Either way, the yogurt at Red Mango tasted much better than what I had at Berry Chill. The texture is creamier and the tang more subtle. I'll be going back!
Red Mango
2806 N Clark St
Chicago, IL 60657-5208
(773) 296-6304
Get directions