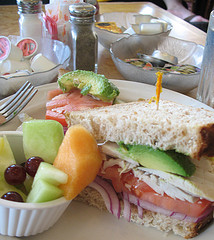 When I think of diner food, healthy options don't spring readily to mind.
Sure, sometimes a half an inch of the mile-long menu is dedicated to "heart smart" choices like boiled chicken, over-cooked broccoli, and cottage cheese. But none of that is very appetizing.
So when I go to diners, I fully expect to load up on carbs and fattening foods like pancakes, fries, and chocolate milkshakes simply because they are the specialties of the house.
That's why I was surprised last week to discover a number of healthy options you'd actually want to eat on the menu at Mitchell's. They're really thoughtful options too, which can be ordered with no mayo, fresh veggies and fruit, and low cal muffins.
I went with the turkey breast sandwich on wheat with avocado, tomato and onion and a side of fruit. It was really tasty!
Of course my meal seemed a little at odds with the large bowl of butter and creamer on the table, but it was so good, I didn't feel like I was missing anything.
Mitchell's
1953 N Clybourn Ave
Chicago, IL 60614-4945
(773) 883-1157‎
Get directions