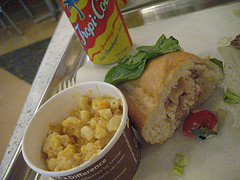 The Spa Cafe is no more and in its place is Lunch Rolls, which specializes in sandwiches.
The interior of the restaurant hasn't changed at all since Tammy and I were there three years ago — even the tables are the same — but the menu is very different. I liked that there are still a number of healthy options. You can get your sandwich on a whole wheat house roll, in a whole wheat pita wrap, or you can skip the bread all together and have your sandwich fixings on a salad.
Fellow foodie @robking2520 and I split a smoked whitefish sandwich on a white lunch roll with a side of mac and cheese, and a Morrocan lamb sandwich on a wheat lunch roll with a side of grilled veggies. We were famished at the time, and so eager to get on with the eating, that we totally forgot to take pictures of our food before we cut our sandwiches apart. But don't let my subpar pictures fool you! Both sandwiches were excellent. We liked the whitefish a bit better, but that's because we both prefer white bread lunch rolls.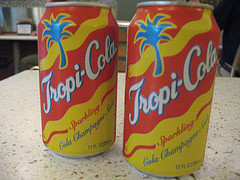 The sides were good too, especially the mac and cheese. I'm often disappointed with the runny, bland mac and cheese at fast food places, so this was a standout in comparison. Bread crumbs were sprinkled on top adding just the right amount of crunch and the cheese had flavor.
We also sampled the Tropi-Cola — a blend of ginger ale and coke. The result tastes startlingly like liquid bubble gum. I made my way through it but wouldn't get it again.
Swing by Lunch Rolls next time you're out and about in the Loop. It's a great place for an affordable quick bite!
Lunch Rolls
112 W. Monroe
312-551-0000
Get directions