Guess what? There's a Dairy Queen in the Loop! It's true! At first I thought it was an urban myth, but a quick Internet search revealed that there's actually more than one.
Still, I had to see it for myself. So, I set out yesterday in search of a chocolate dipped cone on my lunch hour. What could be better?
You have to understand that I come from a DQ family. A little bit of soft serve runs in my veins.
That's because my dad's car has a way of automatically steering itself into every DQ drive-thru it passes, and it's not unusual for the server to know him by name or to have his order ready and waiting because he's a "regular." In fact, on family road trips, it was a criteria that every town we stayed in have a DQ.
A chocolate dipped cone on a hot day is a little piece of heaven to me. And the DQ downtown did not disappoint!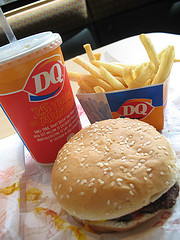 I splurged on a burger, some fries, and a drink too — all this for less than $6. It tasted great, the service was excellent (they brought out the ice cream first), and so was the company — I bumped into my friend Patrick who was there for his afternoon Blizzard fix.
At some point, a "Mister Misty" became an "Arctic Rush," but DQ is still all it should be in the essentials. And a DQ in the heart of the big city? A find indeed!
Dairy Queen
436 S Wabash
(between Van Buren St & Congress Pky)
Chicago, IL 60605
(312) 753-5456
Get directions