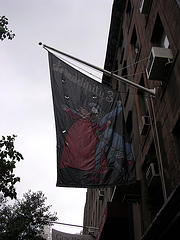 I'm skeptical of restaurant mixes that claim to help you recreate a dining experience at home. But I've stumbled upon a gem!
New York's Serendipity 3 is renowned for its decedent chocolate drinks, and they sell chocolate powder so that you can make your own sipable sin with milk, ice and a blender.
I got a package of it recently as a gift. I doubted it would be any good because as a kid, I was disappointed by chocolate milk made with powder mix. It was just never sweet enough.
So the other night, when I fell victim to intense chocolate cravings at an odd hour, I eyed the pouch on my counter suspiciously before giving in and whipping up the drink.
The result was in a word… fantastic! One sip and I was back in New York — remembering what it felt like to wander Manhattan, watch the people, eat the food. It was an inexpensive trip down memory lane, and I highly recommend it.