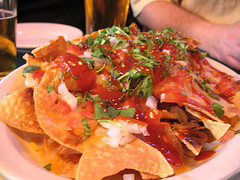 With the fourth right around the corner, and summertime in full swing, I've been craving BBQ. That's why over the past few weeks I've sampled some of Chicago's best! Here are just a few thoughts about Smoque and Smoke Daddy, the two places I've been to most recently:
Smoque has a good catering service. I ordered enough food from there a few weeks ago to feed a small army and was really happy with the result. The order was correct, ready on time for pick-up, and packaged beautifully. The food was even warm when we ate it.
Smoque and Smoke Daddy both serve up standout mac and cheese. Who knew such tasty cheese creations could be found among mounds of roast beast? Smoque has the better version with it's crispy bread crumb topping, while the three-cheese blend at Smoke Daddy tries to do a little too much.
Note to self: Save room for entrées at Smoke Daddy. The starters there, like the pulled pork nachos (pictured), are so appetizing that it's easy to fill up before the "official" meal begins. Hold out for the ribs. They're well worth the wait.
Smoke Daddy is the better place of the two to linger for a while. It features live music seven nights a week and has outdoor seating. Smoque's "order-at-the-counter" setup isn't as conducive to sticking around.
If you like beer, Smoke Daddy has some good choices. But if you're more of a BYOB person, Smoque is definitely your speed. Sure, you'll be drinking wine out of a paper cup, but when it's paired with simply outstanding food, it doesn't matter a bit.
The sauces served at Smoque and Smoke Daddy are strikingly different, but the meat is so perfectly prepared at both places that you can't go wrong with a visit to either one. In the end it comes down to personal preference. If you're craving BBQ, put them both on your list!
Smoque BBQ
3800 N Pulaski Rd
Chicago, IL 60641-3197
(773) 545-7427
Get directions
Smoke Daddy Restaurant
1804 W Division St
Chicago, IL 60622-6810
(773) 772-6656
Get directions