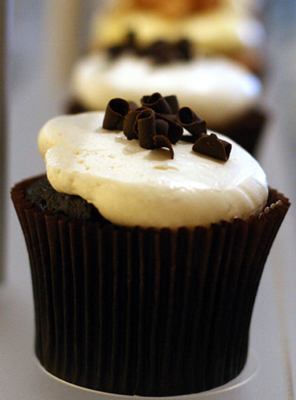 Iron Cupcake Chicago is tonight & we're judging the contest! We thought we'd publish our criteria for cupcake excellence and get feedback from you about what we should be looking for in a cupcake champion!
Our criteria:
Bite-ability: What is the cake to frosting ratio? Does the ratio impede the ability to take a complete bite? Do we have to resort to using a fork? Size matters. Not too big, not too small.
Frosting: Flavor, type, texture are all important and will be looked at critically. How well does the frosting marry to the cake? Does the frosting compliment the cake? Is there enough for each bite? Too much?
Cake: We're looking for moistness, flavor, texture. Does the cake support the frosting well? Does the whole thing collapse after you take a bite?
Presentation: How pleasing is the cupcake to the eye? Are the icing colors appropriate for the flavor? Does the cupcake have flair? Originality?
Ease of Access: Is it too hard to get the wrapper off & when you do get it off does the cake hold together or do you make a mess of it? How many napkins are required to eat it?
Cupcake-ness: Does it remind you of a cupcake or has it pushed things too far?
Social Media: Have you made an effort to promote your cupcake through blogging, twitter, flickr or facebook? It's not enough to make a good cupcake anymore, you have to know how to promote it!
We're not sure exactly what this Twitter means but plan to meditate on it before each cupcake: @RenaissanceFest A cupcake is like a thumbnail picture – it's smaller in size, but it should still tell the whole story.
[GARD]