Wally & Agador's Gourmet Sandwich Shop is closed.
Chef Michael Lachowicz opened Wally & Agador's Gourmet Cafe this week in Lakeview. Though the storefront is evocative of a pet store, it's actually a high-end sandwich shop with grab-and-go entrees from Lachowicz's eponymous Winnetka restaurant as well as deli favorites. The puppies on the window are the owner's dogs, Wally and Agador.
We were invited to a media tasting to try Chef Michael's sandwiches and couldn't pass up the opportunity. On his menu, Chef makes an effort to cater to vegetarians as well as the gluten-free crowd, but I would have liked to have seen more meat-free sandwiches on the menu. One of the few I could try was the Esther Williams — a lobster sausage stuffed sandwich. It was incredibly rich and tasty but also very, very messy, which goes against any notions I have of grab-and-go. However, the meat-filled options were a big hit, particularly the Mama Cass — a ham sandwich with enough pork to warrant a line-item veto. We also enjoyed the dessert sandwiches which are alternately filled with peanut butter or Nutella, marshmallow fluff, and bananas.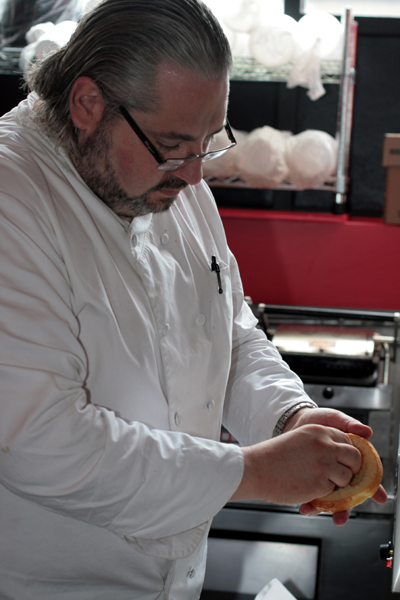 Wally & Agador's can be found in dog-friendly Lakeview at 3310 N. Halsted St. The store is open Sunday through Wednesday, 11 a.m.- 10 p.m. and Thursday through Saturday, 11 a.m. – midnight. Phone order and catering are available at (773) 325-9664.