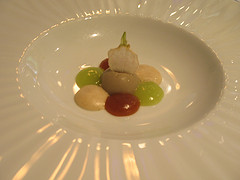 Tru's Executive Chef Tim Graham creates explosions of flavor when he plays in the kitchen.
"Here we have an artichoke consommé, with cucumber, turnip, mustard and peanut oil, paired with an Osborne Manzanilla (sherry)," he explained to us, a group of food bloggers and traditional media folks sitting at his kitchen table.
The kitchen table is just what it sounds like, an exclusive number of seats right at the epicenter of the restaurant. I was there Monday night as a guest of the Sherry Council of America, and the order of the evening was to learn about sherry.
It turns out that sherry isn't just an after-dinner drink. Much like other types of wine, it is often at its best when paired with food.
Graham partnered with Tru's Wine Director Chad Ellegood to prove that point, and they pieced together a five-course meal with a progression of sherry pairings.
"Cucumber, turnip, mustard and peanut oil? You wouldn't think that would go together," one of my fellow diners commented.
"Oh! I found that (combination) on a Belgian Web site," Graham responded gleefully. "I didn't think it would work at first either."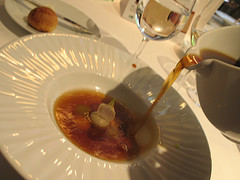 But it really does. And so did the other pairings, some of which are currently on Tru's menu. Most of what we tried was experimental though, and I hope that these pairings find a more permanent home.
"I like a challenge," said Graham of creating just the right dish for the pairing. "I was happy to do this."
Hats off to him for his creativity and effort. I truly appreciate it, especially when other restaurants in the city (namely Alinea) turned down the opportunity to do the same thing. For me, food and wine pairing is, and should be, a learning experience, and I'm glad to know that Tru has an honest interest in helping diners expand and develop their palates.
Sure, any media dinner is ultimately about sales, but this one was just as much about education and a shared passion for quality food. It was truly a delightful night. For a play-by-play of each course, check out Joleen's entry on What's Cookin' Chicago. She gives a nice recap.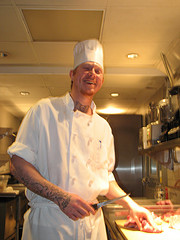 I was also happy to learn that the kitchen staff at Tru is so much fun! A serious restaurant warrants a serious kitchen to be sure, but I won't soon forget the convivial atmosphere I discovered there. In fact, when I snapped this photo (left), it was accompanied by a number of shout-outs that the subject show me his tats (he did).
Now, are you interested in trying some sherry? If you are a port lover like me you really should! Here is a collection of sherry tidbits I garnered throughout the evening. I'm far from an expert, but this should be enough to wet your whistle.
Serve sherry in a white wine glass. It sends the subtle signal that it can go with anything.
Wondering what the difference is between sherry and port? Port is from Portugal and sherry is from Spain, specifically a region called DO Jerez.
Sherry can be very dry, and the varieties that are lighter in color, like Fino and Manzanilla, pair beautifully with tapas, seafood, and sharp cheeses. But sip slowly! Sherry is fortified, and its strength can sneak up on you.
Sherry is ready to drink when it's bottled. Once it's open, most varieties are good for roughly a week in the fridge. Don't like what you taste when you order sherry at a restaurant? Ask your waiter how long the bottle has been open.
The darker the sherry, the sweeter it is. My personal favorite? The 20 year pedro ximenez. It tastes like golden raisins!