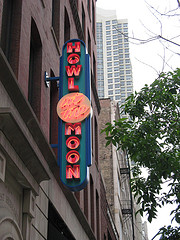 An independent restaurant owner recently told us that local places are struggling in this economy because they can't afford to offer the same kind of big discounts large chains do.
"My son asked me about it when he noticed that the parking lot at TGI Friday's was full and the lot at the diner right across the street from it was empty," she said. "He didn't understand because the food at the diner is better."
Our conversation kept running through my mind while I sat perched on a bar stool at Howl at the Moon last week. I was there with a large group of friends because one of us had "won a party." That means she got to invite a group to the bar Friday night, and from 5 to 7 p.m. we got in with no cover charge, could order half-priced drinks, and take advantage of a free buffet. It's a good deal, and because of it, I've frequented Howl at the Moon more times this year than I would have otherwise.
The marketing plan is excellent — fill up the bar early and offer half-priced drinks so that folks stay all night singing with friends. It works like a charm too, not to mention it's a good time! That's why I go back, and I'm always glad to be invited along for an off-tune sing-along.
Still, I can't help but be a little sad that we found ourselves sitting in a piano bar we'd been to many times before because the price was right, when ones with more character and better menus are a few blocks away. And I was totally grossed out when a cockroach made a cameo appearance at one of our tables.
I may be a victim of chain marketing from time to time, but I won't be eating off that buffet again anytime soon. I think it's time to try the place down the street.