We attended Time Out Chicago's annual award ceremony last night at the Chicago Cultural Center. The evening was filled with unusual awards, odd acceptance speeches, awkward hosting and good beer. While we didn't agree with a lot of the categories or the outcomes, it was an excellent evening of people watching.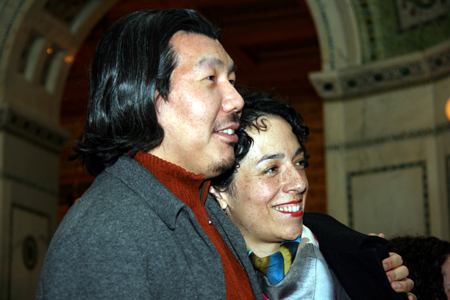 The Time Out editors started by awarding their favorite restaurants through their Critics' Picks awards:
Promo King Award – Rodney Alex of Juicy Wine Company
Comeback Kid Award – Ryan Poli of Perennial
Urban Oasis Award Piccolo Sogno's patio
Please Don't Go Award – The Charleston
Best Elbow Rubbing – Duchamp's
Best Way to Use Your Noodle – Bill Kim and Urban Belly
Best Revival Act – Martial Noguier at Café des Architectes
Best Extra Value Meal – The Bristol from their $11 shared plates
Proof that Evolution Exists – The Coffee Studio who thanked Darwin for their award.
Best Place to Ogle Women – Big Chicks
The Bigfoot Award – Lyle Allen of Green City Market
Viagra Award for Staying Power – Club Lago
The Blog-O You Can Trust Award – The L2O blog
The Most Unpretentious Pretentious Bar – The Whistler, whose owners wore their best farmer's cap for the ceremony
Lifetime Achievement – Henry Bishop, late sommelier for Spiaggia. His widow accepted the award on his behalf and shared a charming story about baseball and Burgundy that would've been much better if the crowd had stopped hobnobbing long enough to listen.
Stephanie Izard declared Chicago to be "the food world of the country", and then helped pass out the Reader's Choice awards:
Best New Vegetarian – Mana Food Bar
Best Italian – Mia Francesca. Really? I mean, c'mon, really?
Best Brunch – Lula Café
Best Tapas – Café Ba-Ba-Reeba! Again, really?
Best New Frozen Yogurt – Berry Chill
Best New Middle Eastern – Chickpea
Best New Bar – Angels & Kings
Best Thai – Sticky Rice
Best Corner Tap – Small Bar Logan Square
Best Thin-Crust Pizza – Spacca Napoli
Best Burger – Kuma's – The owner's acceptance speech was "Metal" and then he walked off. Excellent. We love Kuma's so much.
Best Beer Bar – Hopleaf
Best New Loop Lunch Spot – Epic Burger who suffered from Kuma-envy in their acceptance speech, "we have good burger's too".
Best Barbecue – Smoque
Best New Restaurant – The Publican
More coverage here:
Gaper's Block
Menu Pages