"I'm gonna to teach you how to eat," our waitress announced, smacking a plastic plate down in front of me.
I inconspicuously wiped my hands on my jean shorts to keep from rubbing them together with glee.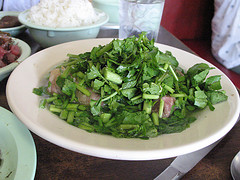 I was about to taste an authentic plate lunch and have someone teach me all about it! But I didn't want to reveal just how excited I was because that would identify me as a tacky tourist. Ono Hawaiian Foods certainly gets its share of mainland visitors, but it's where the locals eat.
There is only one key rule to follow when eating Hawaiian food.
"Everything goes in the poi," our waitress said, transferring an ungodly amount of food from her bowed tray to our tiny table. "It's on your fork, then in the poi, then in your mouth."
We ordered a combination plate to share, which includes Kalua pig, laulau, pipikaula, lomi salmon, haupia, and, of course, poi.
Alone, poi — a purple paste made from taro — doesn't taste like much. But paired with pig that's seasoned with granular Hawaiian sea salt, poi enhances the flavor of the food and adds to its texture.
The pig itself was fantastic… juicy and flavorful after being roasted in the ground for most of the day. We also had pork wrapped in our laulau leaves, which made it taste different but just as good.
Pipikaula is like beef jerky, only it tastes 20 times better. It's dried but manages not to be too chewy.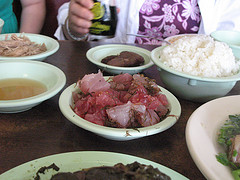 The lomi salmon — a tomato salad with salmon — gave us a small taste of the spectacular seafood we would sample during our time in Hawaii, and the same goes for our side order of ahi tuna (left) and seaweed. The tuna was the freshest and the best I've ever had.
We also ordered chicken watercress soup (pictured above) — a house specialty. The chicken is served bone-in and the soup is meant to be mixed with rice. The dish is surprisingly savory, and it disappeared much too quickly. If I'd had more room I'd have ordered more.
Speaking of room, be sure you leave some for dessert. The haupia, a coconut Jell-O, is a refreshing finisher for a heavy but extremely satisfying meal.
Go to a luau to learn the hula, but not to eat. Eat at Ono Hawaiian foods instead. "Ono" means "delicious" in Hawaiian, and I can't help but be initially skeptical of restaurants that proclaim their greatness in their names and/or storefronts. But this place lives up to its billing.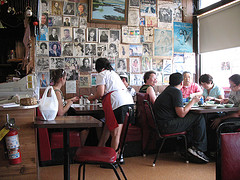 Don't blink, or you'll drive right past it. It's so small that the dining area has roughly five tables. Still, it's a welcoming space (left), decorated from floor to ceiling with photos. And swing by early if you can. I'm told that the line to get in often goes out the door and around the block. But trust me. It's worth the wait.
Ono Hawaiian Foods
726 Kapahulu Avenue
Honolulu, HI 96816
Get directions