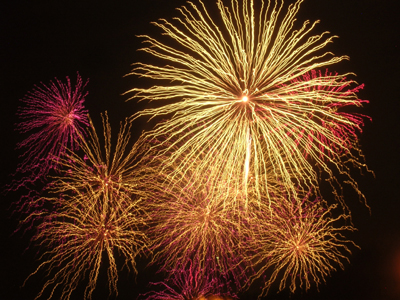 Bridget and I throw restaurant ideas at each other all the time, and we get plenty of suggestions from our friends and listeners of this podcast. There's certainly no problem with finding places to eat. However, it's a little difficult to stay organized about it and actually go to all the places we talk about. Want to come eat with us? Here's our proposed list for 2007:
Adesso – Laid-back Italian food.
Alinea – Everybody, it seems, loves Chef Grant Achatz. We want to love him, too.
Ambria – Top rated French restaurant that we need to try.
Avenues at the Penisula Hotel – There's so much buzz about this place it's not even funny.
Baladoché – Waffles, waffles, waffles!
Butter – It's not just about the color of the walls!
Cafe Selmarie – I've enjoyed their bakery and their cupcakes! Bridget needs to see what it's all about.
Cereality – They invited us and it's not too far from work.
Chicago Diner – I need to do my vegetarian duty and eat at this restaurant.
Chiyo Japanese Restaurant – I wanted to go to this place when it was Matsumoto, but never got around to it.
De La Costa – I honestly can't remember how this made it on the list, but the web site looks interesting.
Devon's Seafood Grill – Ever since I spied one of their waiters drinking a bottle of cabernet sauvignon on the L, I've wanted to go.
Dine – We already have tickets to a wine tasting later in the month. Alpina Singh will be there to sign her book.
Fiddlehead Cafe – This has replaced in Square Kitchen in Lincoln Square. I'm told it's better, but of course we have to check it out.
Fronterra Grill – Rick Bayless and I have shared space in this city for too long to never have crossed paths.
Glenn's Diner – The cereal boxes intrigue me.
Graze – New small plate restaurant that has some early buzz.
Green Zebra – I want to try their 5 course vegetarian tasting menu.
Hema's Kitchen II – A recommendation from the Chicago Dining Out Meet-up group.
Irzu Costa Rican Restaurant – Never had Costa Rican food before…
Kaze Sushi – Bridget and sushi? We shall see…
La Fonda – Listener suggested restaurant.
The Lobby at the Penisula Hotel – We have plans for their chocolate bar!
Marigold Indian Restaurant – Modern Indian food? We'll check it out.
M. Henry – There's always a line around the corner. So it might be good!
Morton's of Chicago – I'm told that vegetarians eat here. Ahem.
Parrot Cage – Tucked away inside the historic South Shore Cultural Center. I think it'd be a great spot for brunch in the summer.
Schwa – I've read a lot about this place, it sounds like an interesting concept.
Toast – I had brunch here years ago when I closed on my condo and I've always wanted to go back to see if it was as good as I remembered.
Topolobambo – Rick Bayless and I have shared space in this city for too long to never have crossed paths.
Yolk – A new brunch place that sounds interesting.